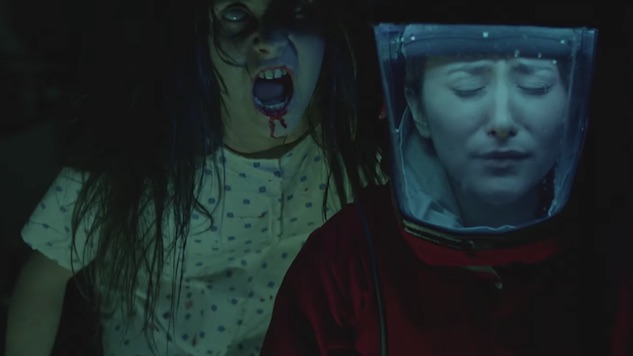 Amazon has debuted its final trailer for its forthcoming DARK/WEB series, the platform's answer to the anthological tech-horror craze that filmmakers refuse to lay to rest.
Looks like DARK/WEB revolves around a missing cyber analyst who has conveniently left behind cryptic messages detailing her fears of technology going awry in the near future. Each character seems to be connected by their wayward relations with the missing woman, and strange happenings begin to take place as they work towards deciphering each message: outgrowths burst from someone's skin, spiders are pulled from the inside of an ear, a villain in a generic plastic Halloween mask kidnaps a woman and zombies start doing their thing.
The trailer ends on two characters half-wittingly playacting scrolling through their Onion-y looking social media feeds and allegorically muttering: "They say it's bad for you, you know. The way we're all connected." / "Everything's bad for you these days."
The series was helmed by Circle co-creators Tim Nardelli and Mario Miscione and stars Brian Elerding (Mad Men), Michael Nardelli (The People vs. OJ Simpson) and Noemi Gonzalez (Rosewood).
Despite being in distribution limbo for quite some time, the series will debut on the streaming platform on July 19.
Check out the trailer below.